Studies Show Nurses With a BSN Degree Face Better Job Market
Nursing is an exciting, rewarding, and ever-growing profession. According to the Bureau of Labor Statistics, demand for qualified nurses will continue to increase, with projected growth of 19% through 2022, much faster than average for all occupations. NAU's nursing programs include information about evidence-based practice, research, nursing leadership, and community health practice.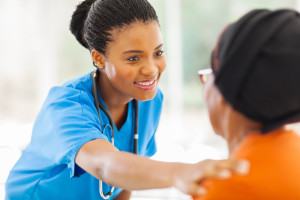 A December 2014 report by the Health Resources and Services Administration (HRSA) indicated that emerging care delivery models, with a focus on managing health status and preventing acute health issues, will likely contribute to the demand for nurses. In addition, the supply and demand of nurses will be affected by population growth and the aging Baby Boomers.
The Institute of Medicine is calling for at least 80% of RNs to have a bachelor's degree by the year 2020 so that nurses have the competency to delivery high quality care for increasing complexity of patient needs.
According to the American Association of Colleges of Nursing:
The BSN degree is essential for nurses seeking to move up the career ladder and provide a higher level of quality care.
The BSN nurse is the only basic nursing graduate preferred to practice in all health care settings — critical care, ambulatory care, public health, and mental health — and thus has the greatest employment flexibility.
More nurse executives are indicating their desire for the majority of their hospital staff nurses to be prepared at the baccalaureate level to meet the more complex demands of today's patient care.
At NAU, we prepare RNs through various programs:
Associate of Science in Nursing (North Kansas City, MO)
Bachelor of Science in Nursing (Albuquerque, NM; Bloomington, MN; Overland Park, KS; Rapid City, SD; Sioux Falls, SDWichita, KS)
LPN Bridge to BSN (Wichita, KS)
Online RN to BSN, (available in all states except Tennessee)
Our Online Master of Science in Nursing provides an emphasis in nursing education. Students can enroll from all states except Tennessee.

100%
Online programs for maximum flexibility
80+%
NAU students receiving transfer or experiential learning credit
100+
Relevant degree and certificate programs
21+
Years of online educational excellence