Want to Become a Medical Assistant? Learn About the Benefits
One of National American University's (NAU) most popular degree programs are within the healthcare field. NAU offers Medical Assistant Degree Programs in a variety of locations. According to the U.S. Bureau of Labor Statistics, Medical Assistants are in high demand, and that demand is expected to keep growing due to growth of the aging baby-boom population that will continue to increase demand for preventive medical services. Medical Assistants held about 560,800 jobs in 2012; employment of Medical Assistants is projected to grow 29 percent from 2012 to 2022, much faster than the average for all occupations.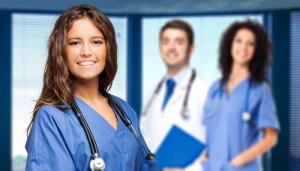 This talented pool of professionals is considered the backbone of medical facilities, as they work hard to ensure the business side of a medical practice runs smoothly, and that patients receive the best possible care. Medical Assistants are responsible for a variety of duties, including:
Primary Duties – Performing administrative and certain clinical duties under the direction of a physician.
Administrative Duties – Duties may include scheduling appointments, maintaining medical records, billing, and coding information for insurance purposes.
Clinical Duties – Include taking and recording vital signs and medical histories, preparing patients for examination, drawing blood, and administering medications as directed by physician.
Becoming a medical assistant can be a very rewarding career path and reaps a variety of benefits, aside from becoming part of a booming field. Medical Assistants have the opportunity to work in a variety of locations ranging from hospitals to a clinic's oncology department, a general practice, or even a chiropractor's office. A Medical Assistant program also takes a shorter amount of time to complete – a diploma program can be completed in as little as 15 months, while an associate degree can be earned in as few as 19 months. Last, but certainly not least, Medical Assistants have the opportunity to build relationships with patients, as well as the team you work with. If you have a passion for helping others and think you will enjoy a stimulating career, becoming a Medical Assistant might be the right career path for you.
National American University offers a variety of both on-campus and online healthcare degrees, including a Medical Assistant program. Contact us today to learn more at (855) 448-2318.
100%
Online programs for maximum flexibility
80+%
NAU students receiving transfer or experiential learning credit
100+
Relevant degree and certificate programs
21+
Years of online educational excellence