What Are Some Medical Assistant Benefits?
Medical assisting continues to be one of the most highly sought-after career fields in healthcare. Why? Medical assistants are vital members of medical teams who work directly with doctors and patients. They are talented professionals who make up the backbone of many medical facilities. Explore the many medical assistant benefits and find out why it remains a hot career choice.
1. Medical Assistants Have Important Roles and Responsibilities in the Medical Office
Medical assistants play crucial roles in medical offices. They work hard to ensure the business side of a medical practice runs smoothly, and that patients receive the best possible care. Medical assistants a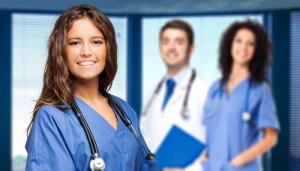 re responsible for a variety of duties, including:
Primary Duties – Performing administrative and certain clinical duties under the direction of a physician.
Administrative Duties – Duties may include scheduling appointments, maintaining medical records, billing, and coding information for insurance purposes.
Clinical Duties – Include taking and recording vital signs and medical histories, preparing patients for examination, drawing blood, and administering medications as directed by physician.
2. Medical Assistants Work Closely with Patients
Do you love to help people feel their best? Medical assistants have the opportunity to build relationships with patients, as well as the team you work with. If you have a passion for helping others and
think you will enjoy a stimulating career, becoming a medical assistant might be the right career path for you.
3. Medical Assistants Work in a Variety of Healthcare Settings
Virtually all medical and healthcare offices rely on medical assistants. As such, medical assistants have the opportunity to work in a variety of locations ranging from hospitals to a clinic's oncology
department, a general practice, or even a chiropractor's office.
4. Medical Assisting Is a Growing Career Field
Not only can you find employment in a number of health settings; you also can take advantage of tremendous job growth. According to the U.S. Bureau of Labor Statistics, medical assistants are in high demand. The BLS expects 19% job growth through 2029, a rate that is much higher than average.
5. Career-Focused Training Is Available for Medical Assistants
Another benefit of medical assisting is the training programs available. Medical assistant programs are career-focused, which means you only learn the skills required for the profession. Also, a medical assistant program takes a shorter amount of time to complete – a diploma program can be completed in as little as 15 months, while an associate degree can be earned in as few as 19 months.
National American University offers a variety of both on-campus and online healthcare degrees, including a Medical Assistant program. Contact us today to learn more at (855) 448-2318.

100%
Online programs for maximum flexibility
80+%
NAU students receiving transfer or experiential learning credit
100+
Relevant degree and certificate programs
21+
Years of online educational excellence