3 Corporate Jobs That Require Technology Skills
The corporate world offers many careers that require a wide range of skillsets. Finance, accounting, marketing, and advertising industries are all ways to find yourself in the vast borders of Corporate America. Nowadays, a lot of these jobs require certain skills with technology. Having knowledge of technical skills can set you apart from the rest of the candidates and solidify your job standing. Knowing how to read social media analytics, mastering graphic design programs, or earning an IT degree are just a few ways you can help yourself land one of the following four jobs in the corporate world. According to the Bureau of Labor Statistics (BLS), more than 50% of today's jobs require some degree of technology skills and experts say that percentage will increase to 77% in the next decade.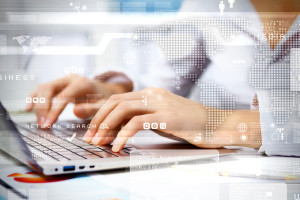 Digital Research Specialist
There's more to digital research than there seems. Digital research specialists are expected to prepare reports of findings, illustrating data graphically and translating complex findings into written text. They also must research information to help businesses find their position in the marketplace, as well as collect and analyze data on customer demographics and buying habits to identify potential markets and facts that affect product demand. Aside from the technical aspect of digital research, other skills needed to become a digital research specialist include:
Pattern recognition
Visual thinking
Statistical analysis
Improvisation
Public speaking
IT Specialist
Any business that has a server is going to need a dedicated IT specialist with an on-campus or online IT degree to make sure that everything runs smoothly. Working in IT isn't just resetting passwords; day-to-day tasks could be anything from diagnosing network issues, backing up the servers, right down to helping people figure out how to sync their iTunes account. IT Specialists are important to companies of every size, to the point that most businesses that are big enough to house them within their walls tend to do so. Rather than outsource tech help, bigger companies usually can't wait around for someone to come and save the day. They need someone there immediately, which is why the IT department is so important. Other skills needed to become an IT Specialist include:
Ability to diagnose a problem
Attention to detail
Analytical thinking
Communication
Financial Analyst
Anyone with the term "analyst" in their job title is probably going to be spending a majority of their time scouring databases and Excel spreadsheets in order to do their work, but a financial analyst is even more likely to be the ones making pie charts, graphs, and anything else that can chart where the money goes. Whether you're a financial adviser working at a bank or you're on Wall Street combing through the trends of the stock market, having knowledge of what the numbers mean and how to track them is a big part of the day-to-day business. Other skills that are required to become a Financial Analyst include:
Problem-solving
Leadership
Communication
Attention to detail
Self-management
Compatibility for both independent and teamwork
The best way to make sure you're a commodity in the corporate world is to have a skill that a company needs and wants. Understanding certain aspects of technology is a great way to separate yourself from the rest of the world. Whether you're looking to become a Digital Research Specialist, IT Specialist, or Financial Analyst, National American University offers degrees that offer you the skills in technology you need to become successful within your industry. Contact us today to learn more or visit us here to check out our online and on-campus degree programs available.

100%
Online programs for maximum flexibility
80+%
NAU students receiving transfer or experiential learning credit
100+
Relevant degree and certificate programs
21+
Years of online educational excellence