Get a Jumpstart on College This Spring
There are a variety of reasons to start college in the spring, whether you've taken a semester off after high school, you're returning to college as a working adult with a family, or for any number of personal reasons. Many simply decide that the spring is a good time as any to transfer to a new school as a fresh start. Whatever the reason, it's important to be prepared academically, socially and financially. Some popular spring start college degree programs include: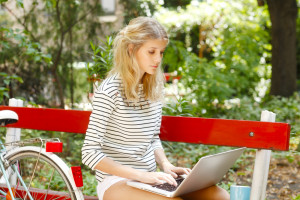 Business
As a top on-campus and online school for business, NAU's business degree programs such as its on-campus and online business management degrees offer students the foundational knowledge, along with real-world skills, needed to be successful in the workforce. Programs concentrate on communications, teamwork, ethics, and management skills.
Health Technology Management
Whether you're looking to become a medical assistant or a healthcare manager, NAU's healthcare programs will prepare you to become a leading professional in one of the fastest growing industries.
Criminal Justice
NAU's criminal justice degree program provides students with the foundation required combined with real world experience in the field. Popular careers include Private Detectives and Investigators, Security Guards and Gaming Surveillance, Correctional Officers, and Police Detectives.
Information Technology
IT workers are now more in-demand than ever. NAU offers on-campus and online information technology degree programs in the following areas: networking, database, and programming. Whether you're looking for a computer security degree or an information systems degree, NAU provides you with the skills to be successful.
Applying for a Spring Start
NAU offers rolling admissions and is currently accepting applications for start dates in March. Therefore, students who have decided to transfer or begin a degree can start school in March, instead of waiting for the traditional September start. There is no application fee to apply to NAU and no entrance exams; applications are short and swift, so there is also no need to worry about spending a lot of time filling out lengthy applications. If you're interested in transferring to NAU this spring, first you must speak to an advisor before applying online. Then, you may request official transcripts. To apply to NAU, you need:
An official transcript (needed only if you've attended a previous college)
High school diploma or GED
A completed student application for admission
Contact NAU today to learn more about any of our degree programs or our application process at (855) 448-2318.

100%
Online programs for maximum flexibility
80+%
NAU students receiving transfer or experiential learning credit
100+
Relevant degree and certificate programs
21+
Years of online educational excellence