How to Turn Your Associate's Degree into a Bachelor's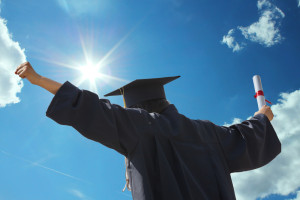 Whether you've earned your associate's degree last semester or twenty years ago, it's never too late to return to school and turn your associate's degree into a bachelor's degree. If you've already earned an associate's degree, you're halfway to earning your bachelor's. An associate's degree is a great way to provide yourself with the foundation needed for your career and has likely helped you establish a career path you want to follow. So why should you invest in a bachelor's degree?
Benefits of a Bachelor's Degree
According the Bureau of Labor Statistics (BLS), those with a bachelor's degree are less likely to be unemployed and make an average of $309 more a week than those with an associate's degree. Plus, by 2020 over 2 million more jobs will require a bachelor's degree than those that require an associate's degree. Other benefits of earning your bachelor's degree are broadened skills and increased job marketability, so even if you're looking for a new industry to dip your toe into, a higher degree can help you reach your goals. A higher degree can also help increase job stability and put you in line for a promotion.
Steps to Turn Your Associate's Degree into a Bachelor's
If you're ready to turn your associate's degree into a bachelor's, start with these steps.
1. Find the Relevant Bachelor's Degree Programs
The first step is to determine which bachelor's degree programs are relevant to your associate's degree. In other words, what's the next logical step? For many programs, the answer is straightforward. If you have an associate's degree in criminal justice, for example, it makes sense to consider a bachelor's degree in that same field.
However, there isn't always a bachelor's degree in the same field. In those cases, research similar programs that relate to your associate's degree. Computers or technology programs sometimes transition nicely into business. Medical programs often apply to healthcare management degrees. There are a lot of resources online to help you find the best bachelor's programs.
2. Contact Target Schools with Bachelor's Degree Programs
Once you have a list of relevant bachelor's programs, reach out to the schools to find out more information. Here are some questions to ask:
Are there any current students with your same associate's degree background?
What are the credit transfer requirements?
How long will it take to complete the program?
What career opportunities come with the bachelor's program?
3. Figure Out How Associate's Degree Credits Transfer to Bachelor's Degree
Related to those target school questions is the transfer credit policy. This is important because you want to figure out how many of your existing college credits apply to the new bachelor's degree. Ideally, you should find programs in which you have significant credit to save time and money.
Understand that the transfer credit policies vary by school. Some schools are generous with credits, while others are more restricted. For example, many schools put a time limit on credits, so you may only receive credit for classes you completed in the past five years or so. Whatever the case is, always reach out to the school to determine your exact transfer credits.
Going Back to School to Earn a Bachelor's Degree
National American University has made it easier than ever to return to school as a working adult or busy parent with children – you can receive your degree without compromising other responsibilities and commitments thanks to flexible learning schedules. From on-campus and online business degrees to nursing and IT, there are a huge variety of degree programs to choose from.
Learn more about our degree programs, as well as transfer credits and more by contacting National American University! We are happy to help and answer any questions you might have. Call us today at 855-448-2318.

100%
Online programs for maximum flexibility
80+%
NAU students receiving transfer or experiential learning credit
100+
Relevant degree and certificate programs
21+
Years of online educational excellence