Meet 1949 National School of Business Graduate Joy Bagley
"I was out of one and into another," recalled Joy (Bagley) Swanson.
In 1948, Joy had just graduated from high school in Bowman, North Dakota and over the weekend following graduation, she moved with her friend, Betty (Erickson) Brosten, to Rapid City to attend college at National School of Business.
Clarence Jacobson, the founder of National School of Business (NSB), visited countless high schools in the 7 years since founding the college in 1941, including the Bowman High School. Joy, who took typing and shorthand in high school, saw NSB as an opportunity to make a career out of something she enjoyed.
"I thought I'd give it a try," she recalled. "NSB seemed like a good fit for my interests."
Money was also tight and NSB was less expensive than a four-year college. As one of 7 children, Joy's father was supportive of her attending college but could not afford to help pay for it.
"My dad said I would have to be responsible for myself," she said. "He was supporting a large family and didn't have extra to pay for my college. My brother ended up loaning me $200."
Joy recalls with appreciation the level of support that Mr. Jacobson and his wife, Katherine, provided to NSB students. Almost immediately upon arriving in Rapid City, the Jacobsons helped her locate a job and housing. She worked in the Alex Johnson dining room and lived with Betty in a private home.
"That was interesting," said Joy, speaking of her living arrangement. "I roomed with Betty and two fellows from NSB roomed together in another room. The family also had three kids. So there were 9 of us in this house, but just one bathroom."
After about 6 months, Joy and Betty moved into an apartment with Ila Gluhm. Joy has stayed in touch with both Ila and Betty since their time together at NSB.
The support from the Jacobson's followed Joy's 1949 graduation.
"Mr. Jacobson had a very good relationship with area businesses," said Joy. "These businesses knew we were getting a good education and would be quality workers. I don't know of a single graduate who didn't have a job right after graduation."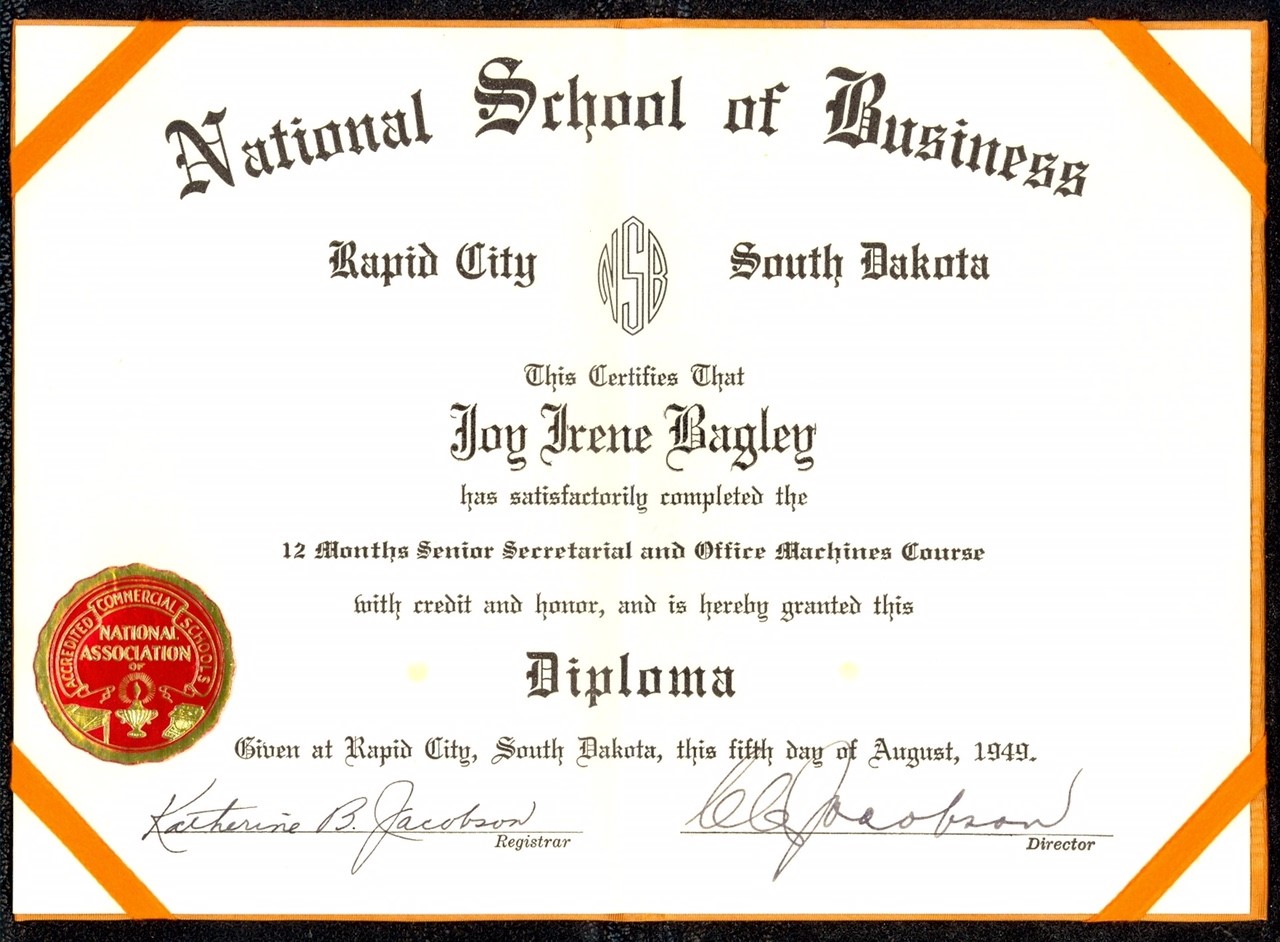 Joy worked for Fairmont Food Company for three years. Then, Joy was hired by Harold Buckingham to work at Buckingham Transportation. Ironically, Harold Buckingham would eventually purchase NSB from Clarence Jacobson almost a decade later.
"Mr. Buckingham hired me right away based on my experience at Fairmont Food. He said that anyone who worked for Fairmont's for three years would be a good employee," said Joy. "Apparently, Fairmont's had a reputation for being a tough place to work, so most people didn't stay that long. Since I hadn't worked anywhere else, I didn't have anything to compare it to."
Ultimately though, Joy's tenure at Buckingham Transportation was short. Joy married James Swanson on November 29, 1952, and James' job took them to Billings, Montana just six months later.
While working at the Alex Johnson during college she had met James, who was working at the same hotel as a bellhop during his summers off of studying geology at Brigham Young University.
"My brother forgave the rest of my loan as a wedding present," said Joy. "I was paying him back, but it was taking a while. At the time of our wedding, I still owed him $30."
The young couple moved to Billings, Montana where James secured a job as a geologist for an oil company.
"I sent a note to Mr. and Mrs. Jacobson to let them know I had gotten married and was moving to Billings," said Joy. "My main objective was to request a recommendation letter and share my new address. They sent me the letter along with some nice tea towels as a wedding gift. It was very thoughtful, although I was a little embarrassed. I didn't mean for them to send a gift."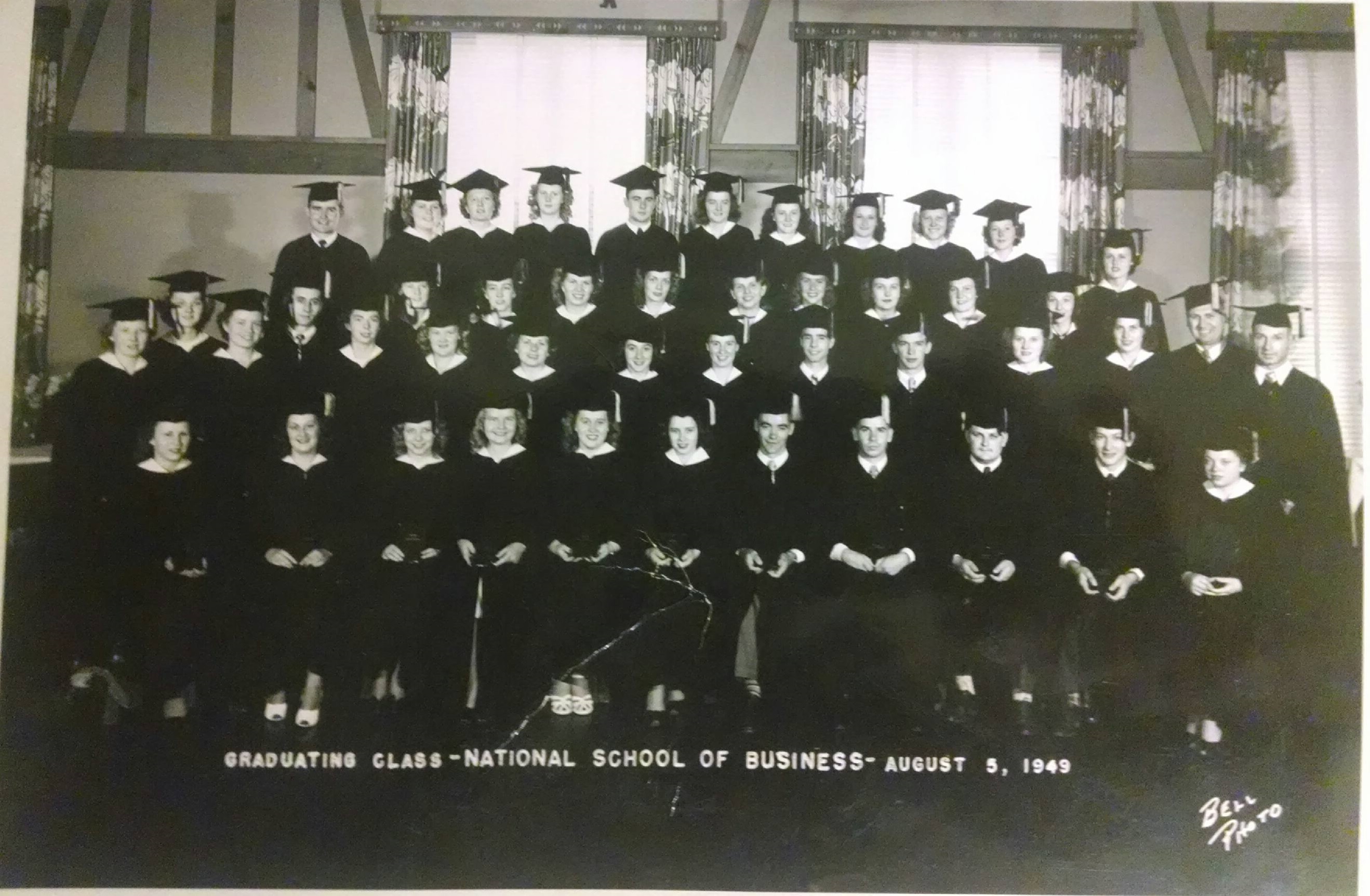 Joy is the first student on the left in the first row.
She and James made a life for themselves in Billings for more than 2 decades and then moved to Buffalo, Wyoming. They raised four daughters, all of whom were also successful in their chosen careers. With her family she enjoyed golfing and skiing. James became a consultant geologist in 1972 and Joy served as his accountant and typed his geological reports.
Joy is proud of her daughters, all of whom have been successful in their chosen careers. She spends a lot of time babysitting her daughter Julie's dog. Julie recently retired as a chemical engineer and now spends her time spoiling her mother
"I am truly blessed," says Joy. "I'm enjoying the time I spend with my daughters who do spoil me. I am also happy to have remained in touch with Betty and Ila after all these years since our time at NSB. I do have NSB to thank for my degree, memories and lifetime friendships."
About the author:
Tamie Hopp is the Director of Alumni & Foundation Services for National American University. She can be reached at thopp@national.edu. For more information on alumni relations, visit nauconnect.com. Information about the NAU Foundation can be found at naufoundation.org.

100%
Online programs for maximum flexibility
80+%
NAU students receiving transfer or experiential learning credit
100+
Relevant degree and certificate programs
21+
Years of online educational excellence