Going the Extra Mile: NAU's Ellsworth Student Senate
Founded nearly two decades ago, the NAU-Ellsworth Student Senate's primary role is to make NAU a better place to learn by making it a community for their students.
Community is particularly important at Ellsworth Air Force Base. NAU began offering classes at the Ellsworth campus in 1974, the first NAU extension location; there are now 35 locations across the central United States. Most NAU-Ellsworth students also serve in the Air Force.
"Our Student Senate remains active even as students come and go as they are deployed or get stationed elsewhere," said Sammy Roy, the NAU-Ellsworth Campus Director. "Our Senate is a consistent and necessary voice for our student body and the surrounding community."
Technical Sergeant (TSgt.) Ty Weston, the current president of the Student Senate, has been involved in the Senate for a number of years.
"I came to a meeting several years ago and didn't turn back," said TSgt. Weston. "I love helping people and like being a part of something that is focused solely on making NAU better. The Student Senate gets everyone talking; ideas are generated. When that happens, I know we've done our job well."
Senior Airman (SrA.) Cameron Cornock, Vice President of the Student Senate, agrees.
"We are here for the students," said SrA. Cornock. "I like that I am involved in something that is making NAU a better place to learn. It makes our whole experience here at NAU more meaningful."
"We do all we can do to add meaning to each student's time on campus," added SrA. Cornock. "Whether it's making food and gift baskets for graduation or award ceremonies, or offering a snack locker for students attending class. It all matters and all goes toward creating community."
Those involved in Student Senate are also gaining important leadership skills to assist them when seeking jobs and other opportunities.
"It allows me to offer my leadership in ways that I may not be able to within the military organization and installation, " said SrA. Wintera Jones, the organization's other vice president, and secretary.
SrA. Jones, who works in customer service, appreciates the opportunity to connect with people and make a real difference for students and others in the community.
"The Student Senate is here first and foremost for our students," said SrA. Jones. "And, part of being here for our fellow students is providing them with opportunities to give back to their community."
"Our Student Senate has worked hard to support a variety of good causes," said Michele Sanchez, the Senior Enrollment and Completion Advisor for NAU-Ellsworth. "They've raised money for the Humane Society, hosted an Angel Tree and Toys for Tots for kids at Christmas, organized a food and coat drive, and sold used books to raise money for scholarships."
Most recently, the Student Senate held a bake sale, raising $200 for a graduate of the Community College of the Air Force.
"They raised money for a scholarship for an exceptional student who was active duty Air Force," said Sammy Roy, campus director. "They'll be offering the scholarship this spring and again in the fall at the Community College of the Air Force graduation ceremonies."
Each summer the NAU-Ellsworth Student Senate also hosts a barbecue on campus for students, faculty, prospective students and the broader community.
"It's our 'Come Meet NAU' day," explains TSgt. Weston. "It's an event that has really grown throughout the years. It's a great way for us to say thanks to our students and faculty, while also introducing NAU to others."
"This is a truly selfless group," remarked Sammy with obvious pride. ""They serve as an important voice for students and a great asset to the community. I'm proud of them and grateful for their involvement."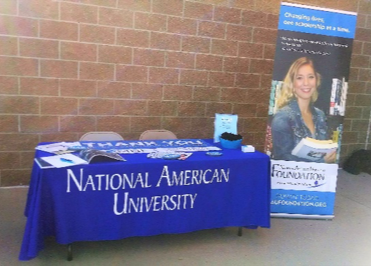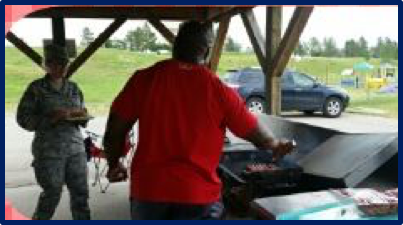 About the author
Tamie Hopp is the Director of Alumni & Foundation Services for National American University. She can be reached at thopp@national.edu. For more information on alumni relations, visit nauconnect.com. Information about the NAU Foundation can be found at naufoundation.org.

100%
Online programs for maximum flexibility
80+%
NAU students receiving transfer or experiential learning credit
100+
Relevant degree and certificate programs
21+
Years of online educational excellence