1944 Graduate Recalls Caring and Supportive Environment
"Mr. and Mrs. Jacobson and our other instructors wanted us to learn. They wanted us all to become strong, good people. They cared," said Toni Martin, a 1944 graduate of National School of Business (NSB), recalling her time at the university 72 years ago.
Clarence and Katherine Jacobson founded NSB in Rapid City, South Dakota in 1941, just 2 years prior to Toni's time at the university. Toni enrolled to pursue a 2-year Secretarial degree.
For Toni, attending college in Rapid City was a chance to spread her wings. She had grown up in a small town in Nebraska, working 7 jobs to make ends meet and graduating valedictorian of her high school.
"I could have gone to college in Nebraska," said Toni. "But, I really had no interest in staying close to home. Mr. Jacobson had visited our high school and my decision was made."
Her mother used the family's cream money for a train ticket to Rapid City and the bank gave Toni a $200 loan, the cost of tuition for one quarter at NSB.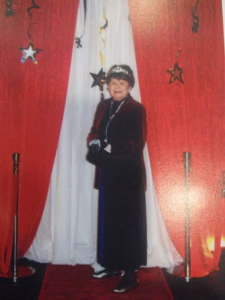 "I was just 17 years old and the bank trusted my signature on the loan agreement," Toni recalls with obvious gratitude after all these years. "They saw my potential and understood my need to expand my horizons."
She got off the train in Rapid City with nowhere to stay and without a job. After walking a bit, she happened upon a boarding house that was willing to rent her a room if she was willing to share the room with another tenant.
"I was grateful to be off the street," said Toni. "I'm not sure my roommate, Elsie, felt the same way at the time, but we ended up good friends and remain good friends today."
Toni also very quickly found a job at the Alex Johnson hotel, a job she held throughout her time at NSB.
"I worked in the beautiful Lincoln dining room of the Alex Johnson," said Toni. "I had a wonderful time and worked hard."
This same work ethic was evident in her studies.
"I was a good student," she recalled. "I didn't have much money, like many of my classmates, but the teachers were just so wonderful. They really pushed us. I knew the degree would help me with my career."
Toni recalled that the mood of the country was especially emotional at the time. The war was coming to an end. NSB's students at the time were either women pursuing secretarial degrees or men returning from the war and taking advantage of the Veterans Administration's loan program and pursuing accounting degrees.
"The business college had a very good relationship with the business community in Rapid City," said Toni. "Mr. Jacobson knew that many of his students were working hard to pay for school. To help, Mr. Jacobson would recommend students to businesses who needed temporary help with projects or to cover for employees on leave. One of my best experiences was working for Mr. Morris Adelstein at Northwest Engineering while his secretary was out on leave."
Toni graduated in just 18 months and was given an award for being the fastest typist on a Royal Standard manual typewriter, typing 75 words per minute for 10 minutes.
While in living in Rapid City, Toni met her husband who was attending the South Dakota School of Mines at the time. Upon his graduation, Toni traveled with her husband in the Upper Midwest building dams and powerhouses.
The couple returned to Rapid City in 1955 and a Christmas card to the Jacobsons prompted a phone call from Mr. Jacobson, who recalled Toni's good work as a student.
"He wanted me to come work for NSB," she said. "It worked out. The Jacobsons were kind people and it was fun reconnecting with my college and the students. They expected the very best out of their students and in exchange gave them the best education."
In early 1963, the Jacobson's sold the school to Harold Buckingham, for whom Toni worked for a brief time helping to organize the university's files. She then worked at Wells Fargo bank as an Assistant Trust Officer, working there for 23 years, and also held positions at the Rapid City Journal and in a CPA firm over the course of her long career.
The National School of Business has gone through several name changes over the years and is now National American University.  Even so, through four name changes, the NAU mission has not changed.
Students like Toni Martin, who after 72 years recalls the quality education she received in a caring and supportive environment, pay tribute to the fact that NAU's long-time mission endures.
About the author
Tamie Hopp is the Director of Alumni & Foundation Services for National American University. She can be reached at thopp@national.edu. For more information on alumni relations, visit nauconnect.com. Information about the NAU Foundation can be found at naufoundation.org.

100%
Online programs for maximum flexibility
80+%
NAU students receiving transfer or experiential learning credit
100+
Relevant degree and certificate programs
21+
Years of online educational excellence