NAU's College of Health and Sciences Dean Credits Mother and Pays It Forward with Academic Excellence Scholarships
Sarah Matchan Feit and Elizabeth Winkelmeyer have received the National American University Foundation's Dean's College of Health and Sciences Academic Excellence Scholarship.
Elizabeth is pursuing her Associate of Applied Science (AAS) degree in Occupational Therapy Assisting at National American University (NAU) in Centennial, Colorado.
Sarah, who earned an AAS degree in Medical Assisting from NAU in Sioux Falls, South Dakota, in 2008, is now pursuing her Bachelor of Science in Nursing degree at NAU in Sioux Falls.
Sarah and Elizabeth were selected by an independent committee to receive the $1,200 scholarship. They were then picked by Dr. Marilyn Holmgren, dean of NAU's College of Health and Sciences, to receive the dean's designation as a way to honor her mother.
"My mom was 100 when she passed away last fall," said Dr. Holmgren. "Her love of learning never ceased, and I really credit her for instilling in me an appreciation for education, and, in particular, healthcare education when I was quite young."
Dr. Holmgren's mother, Leona Smith, became an accredited record technician following the successful completion of a medical record technology correspondence course more than 50 years ago, an early example of distance learning in post-secondary education. Her education landed her a job in a local community hospital where, Dr. Holmgren, as a teenager, also worked.
"I saw how hard she worked on her schooling while also raising my brother and me, and how it helped with her career," said Dr. Holmgren. "I knew the best way to honor my mom's legacy was to support moms, like Elizabeth and Sarah, who are investing in their families' futures by attending college and pursuing careers in health care."
For Elizabeth, college was a fresh start for her family.
"I am a single mother of five," explained Elizabeth. "We fled a domestic abuse situation. The three youngest and I currently live in my parents' basement. The children are part of the federal homeless initiative at school, and we would be truly out on the street if not for my parents' kindness."
Elizabeth likes the symmetry of her career goal and her life.
"I am rebuilding my life by helping others rebuild theirs."
Sarah became interested in a healthcare career following a family health scare.
"My mom had a stroke. The care she received from the doctors, nurses, therapists, and down the line was extraordinary," explained Sarah.
"Everyone I encountered had the strongest compassion of helping and serving those in need. My mom fully recovered and I was hooked. I knew that providing positive support to people facing health crises was something I wanted to do with my life."
Throughout high school, Sarah volunteered at a long-term care facility delivering meal trays and also at a local hospital as a patient escort.
"I was able to interact with all the wonderful patients that would come to the hospital each and every day," said Sarah. "My job was to try to keep them positive and smiling, no matter what they were going through. Finding ways to make patients smile is still my goal to this day."
Sarah, who has associate degrees in medical assisting and invasive cardiovascular technology, has worked in the healthcare field for many years, currently for Avera Health in Sioux Falls.
Only recently, however, did she decide to pursue her nursing degree.
"In March 2015, my husband and I welcomed our son Beckham into the world," said Sarah. "The delivery did not go as planned, and I am not sure if I would have gotten through it without the amazing nurses at Avera. I knew I had to take the next step in my journey."
Sarah re-enrolled at NAU in August 2016.
Elizabeth, like Sarah, has a very specific goal in sight as she pursues her degree.
"I am determined to graduate in spite of the challenges, reconstruct my family's life, establish financial self-sufficiency, and be an example to my children," shared Elizabeth.
Dr. Holmgren is impressed with Sarah and Elizabeth's work ethic, as demonstrated by their academic achievement and their commitment to continuing their education.
"Through my mom's work, I also gained experience working in a hospital even before I graduated from high school. These early lessons came together as I worked my way through college, focusing on health information management, and, ultimately found a position in higher education."
"The dean's scholarship is in no small measure a nod to my mother and a way to pay it forward," added Dr. Holmgren. "Sarah and Elizabeth, who are both committed to a career in health care and whose journeys for their children require persistence and determination, perfectly represent the spirit of this scholarship."
"I am grateful to represent NAU's College of Health and Sciences for this scholarship and so grateful to Dr. Holmgren for her generosity," said Sarah.
"NAU's Bachelor of Science in Nursing program has taught me so much already and is preparing me for a wonderful career in nursing. My instructors are without a doubt the most encouraging and caring individuals, and I am very appreciative of their knowledge of the field."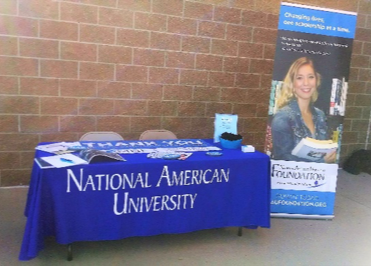 Elizabeth agreed.
"The NAU professors and staff have supported me personally and academically. They are my mentors," said Elizabeth. "To hear that Dr. Holmgren felt I represented the ideals of NAU and her mother is humbling and incredibly encouraging. Her support has strengthened my resolve to continue."
"I commute more than 500 miles a week for school. The program is worth every mile," added Elizabeth. "My educational journey, which is very much a reset of my life and that of my children's, would not have been possible without the assistance I've received from NAU."
Elizabeth has already begun paying her gratitude to NAU forward by serving as the liaison between local occupational therapists and the domestic abuse shelter where she was a client. She is facilitating specialized occupational therapy training on the signs and dynamics of intimate partner abuse at the shelter.
"I will continue paying it forward. NAU has helped get me my life back."
About the author
Tamie Hopp is the Director of Alumni & Foundation Services for National American University. She can be reached at thopp@national.edu. For more information on alumni relations, visit nauconnect.com. Information about the NAU Foundation can be found at naufoundation.org.

100%
Online programs for maximum flexibility
80+%
NAU students receiving transfer or experiential learning credit
100+
Relevant degree and certificate programs
21+
Years of online educational excellence