NAU Celebrates Official Opening of the College of Military Studies, Welcomes First Student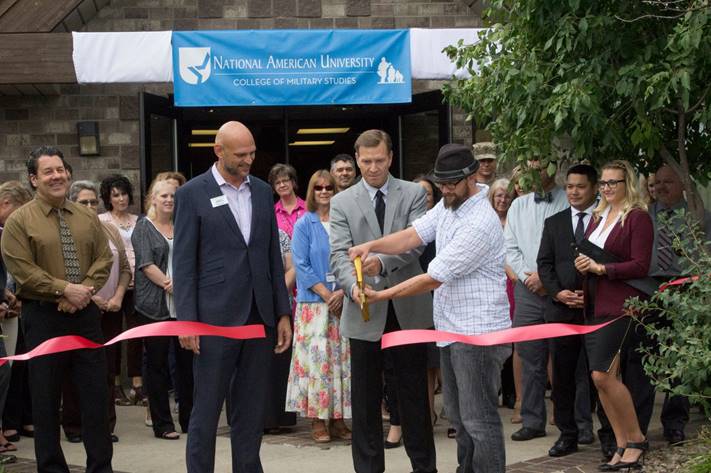 On Thursday, August 17, 2017 the ribbon was cut in Rapid City, S.D., symbolizing theofficial establishment of the College of Military Studies at National American University. Students, faculty, and staff were joined by members of the Rapid City Chamber of Commerce for the occasion. The focus of the new college is our military-affiliated students. Current, former, and retired military members and their dependents will be served by the College of Military Studies.

The new college has dedicated staff, most of whom are current or former members of the armed services, or military family members. The college offers all of National American University's courses and programs under the umbrella of the specially-trained military-focused staff.
NAU's College of Military Studies First Student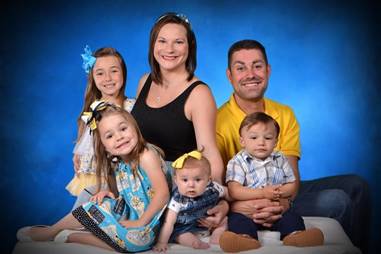 Editor's Note: United States Air Force Staff Sergeant Travis Toberman is National American University's first College of Military Studies student. NAU has proudly served military students since its founding in 1941. Building upon the University's commitment to exceptional student service, the College of Military Studies, launched on June 1, brings military students and NAU's general academic programming together to allow NAU to better serve their specific academic and support needs.
SSgt Toberman heard about National American University through a coworker. With the university's help, he was able to complete his Community College of the Air Force degree.
The NAU Alumni Office is pleased to share SSgt Toberman's story here, in his own words.
My name is SSgt Travis Toberman.
I am a military brat; my father and mother are both retired Air Force.
I came in the Air Force May 13, 2003. I started my career as an Air Traffic Controller, but washed out after 2 years. I cross trained into my current job as a Pharmacy Technician. My first duty station was Tinker Air Force Base (AFB) in Oklahoma City, Oklahoma.
After cross training into pharmacy, the Air Force moved me to Langley AFB in Hampton, Virginia. This is where I met my wife, June Toberman. She work in the pharmacy with me and did 8 years in the Air Force.
We were married on October 25, 2008. A year and a half later, we welcomed our first child, Alana Sharon Toberman, on January 29, 2010. We had another baby girl, Ava Elise Toberman, on May 6, 2013. Our son, Truman Jamison Toberman, was on October 14, 2014.
After our son, June and I decided we did not want any more children. A few days before my surgery, my wife called me on my lunch crying. I asked what was wrong and she said she was pregnant. 2
At first we were shocked. We had made the decision not to have any more children and had been changing diapers for 6 years. But, after a moment, I told her it would be ok; our life style would not change much.
Holly Noelle Toberman was born on January 6, 2016. She was born with congenital heart disease and was monitored by a pediatric cardiologist.
At this point we had lived in Hampton for around 10 years, when I received orders to Minot AFB in Minot, North Dakota. We heard horror stories about Minot. I even thought about getting out of the Air Force. I opted to see it through, so we moved across the United States.
We actually enjoyed Minot and its slower pace.
Tragedy, however, struck our family. On July 6, 2016, my daughter Holly passed away. The autopsy came back saying she had pneumonia, which was a complete surprise to my wife and me. Holly was a 6 month old healthy baby and showed no signs of even being sick. My wife and I decided to get a second opinion which came back saying she had Respiratory Syncytial Virus.
The Air Force offered us a humanitarian move to be closer to our hometowns. It was approved and we moved here to Whiteman AFB in Knob Noster, Missouri. It was extremely rough on my family to be relocated twice in about six months, especially under the circumstances. We miss our daughter but are trying our best to keep our family strong. In fact, we are expecting our fourth daughter (our fifth child) this September.
Through all this, I have been pursuing my college degree through the Community College of the Air Force (CCAF). A coworker told me about National American University (NAU). I enrolled in order to take speech, a CCAF requirement, just as NAU had created its College of Military Studies. I've enjoyed my experience at NAU and am grateful for the flexibility that the university affords students serving in the military and their families.
"The views expressed in this article are those of the author and do not necessarily reflect the official policy or position of the Air Force, the Department of Defense, or the U.S. Government."

100%
Online programs for maximum flexibility
80+%
NAU students receiving transfer or experiential learning credit
100+
Relevant degree and certificate programs
21+
Years of online educational excellence