Alumni Spotlight: Adam Borton
Adam Borton's journey to college graduation was more of a marathon than a sprint.
"I started my college experience in 2005 and, after completion of my military training, I enrolled at National American University in August 2008," said Adam. "I received my bachelor's degree in February. It was an amazing feeling to finish after nearly 12 years."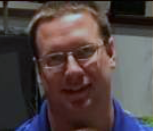 Adam was pursuing college while serving in the United States Air Force. He was often deployed for six months at a time.
"During all those years I was pursuing my degree, I was deployed a total of 20 months," explained Adam. "With my work schedule during deployment and the fact that we often did not have reliable internet access, keeping my GPA in mind, it was in my best interest to put school on hold with each deployment."
Back home, he was grateful to be able to attend ground classes at Ellsworth Air Force Base near Rapid City, South Dakota, and very grateful that NAU offered flexible scheduling for military students.
"I was allowed to attend class during my work hours at Ellsworth," said Adam. "For me, that made college possible. I didn't have to find time to spend with family, go to work, and also go to school. I also really liked that Ellsworth offered classes right at the base including at times, at my squadron. I didn't take my first online class until 2014."
Still, staying focused on the finish line for over a decade wasn't easy.
"My wife was very supportive," said Adam. "I was going to college when we met and she simply would not let me quit even when we had two infants to take care of."
"Each time I was deployed, I also brought my degree plan with me. I could take it out and see the progress I was making. It was a tangible and visual reminder of the progress I had made."
Even so, the journey was not easy.
"I felt like quitting many times over those 12 years," said Adam. "The math classes were my biggest obstacle. There were so many students, plus my work schedule made it very difficult to schedule extra time with the teachers."
Adam is, however, a problem-solver by nature. With each obstacle – an unpredictable schedule, deployments, challenges with his math courses, and learning in an online environment – Adam overcame these challenges as he focused on reaching his goal.
"For math, I found online instructional videos from YouTube that helped me figure things out."
He also recently volunteered to participate in NAU Match!, a new mentoring initiative through the NAU alumni office. He provides moral support and practical advice to an NAU student as she works to overcome challenges on her journey toward graduation.
"As a mentor, I am able to help her finish her degree when the odds are against her just as they were for me," said Adam. "I provide guidance and help with any issues that she has using the experiences that I went through in my undergraduate program. I think that the most beneficial part of the program is to see a student succeed in their college endeavor," continued Adam.
Adam separated from the Air Force about a year ago. He used that year to take the final 18 classes he needed for his bachelor's degree in international business. He is now pursuing his NAU master's degree in business administration with an emphasis in operations and configurations management, earning a 4.0 GPA after completing the first quarter of his required classes. After completing his undergraduate degree in February he began to apply to potential employers and noticed that most wanted a cumulative GPA of 3.5 or higher. Keeping this in mind he is hoping to maintain a 4.0 so that he has a greater chance of employment when he graduates next year.
"I traveled the world while in the Air Force, working with contractors and diverse cultures. I'm hoping my college degree and my life's experience will result in an exciting new challenge. I'm excited and optimistic about my next steps in life."
About the author:
Tamie Hopp is the Director of Alumni & Foundation Services for National American University. She can be reached at thopp@national.edu. For more information on alumni relations, visit nauconnect.com. Information about the NAU Foundation can be found at naufoundation.org.


100%
Online programs for maximum flexibility
80+%
NAU students receiving transfer or experiential learning credit
100+
Relevant degree and certificate programs
21+
Years of online educational excellence