Recipient of NAU Foundation's Bill Tschetter Paralegal Studies Academic Excellence Scholarship Named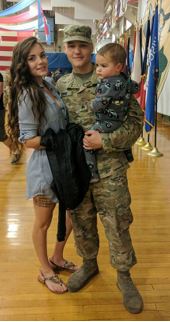 COLORADO SPRINGS, CO – Emily Brown has been awarded the nonprofit National American University Foundation's Bill Tschetter Paralegal Studies Academic Excellence Scholarship for the winter 2017 academic term.
Emily, a 4.0 student who started her degree in June, is pursuing her Associate's degree in paralegal studies at NAU's Colorado Springs South campus.
"I've always known that I wanted to pursue a legal career," said Emily. "In high school, I took every law class offered."
As a high school graduate, the cost of attending college collided with reality.
"I joined the U.S. Army after realizing college is unrealistic when you have no money," said Emily. "I served three years active duty."
While enlisted, she met her husband and they welcomed their son, Rowan.
"Serving in the military and starting a family meant college remained on the back burner until this year," said Emily. "I finally took the first step to achieving my goals."
One criteria for the Tschetter Paralegal Studies Scholarship is having a clear career vision.
"After graduating with an associate degree, I will obtain my bachelor's degree and then law school," said Emily with confidence.
"Choosing National American University's paralegal program has given me realistic hope that I can execute my purpose in life and become an outstanding lawyer," she added. "I want to help people who cannot help themselves. Anything is possible with supreme dedication and determination no matter the setbacks life throws at you."
The paralegal studies scholarship honors R. William "Bill" Tschetter. Bill, who practiced law in Rapid City from 1976-1995, founded the NAU Paralegal Studies Program in 1988, and served as its director until his retirement in 1995.
"Bill was a man of vision," recalls Paul Sedlacek, NAU's General Counsel. "The college didn't start the program. Bill approached the college. A lot of people are slowing down at age 64, not starting something new."

The Bill Tschetter Paralegal Studies Academic Excellence Scholarship is made possible by generous contributions from the Julius & Simpson law firm in Rapid City and Bill's family and friends.
The National American University Foundation, a 501(c)(3) organization, proudly supports NAU students and faculty through student scholarships and professional development funds. More information is available at www.naufoundation.org.
National American University is a multistate institution of higher learning offering associate, bachelor's, master's, and doctoral degree programs in traditional, online, and hybrid formats. National American University is accredited by the Higher Learning Commission, with several programs separately accredited or approved by national educational and professional associations.

100%
Online programs for maximum flexibility
80+%
NAU students receiving transfer or experiential learning credit
100+
Relevant degree and certificate programs
21+
Years of online educational excellence