Studying with Kids at Home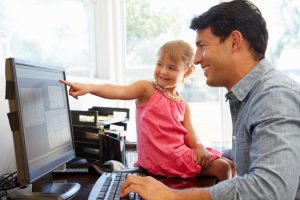 In the stay-at-home era of COVID-19 many adults are learning how to navigate the "new normal" of working and studying alongside kids who are out of school and daycare. Many students find it difficult to stay on track with a house full of distractions. Don't get stressed! Try these tips to help you stay focused and efficient while sharing your space with others.
Keep a daily schedule.
Kids need structure. And, having a set routine for your children will make it easier for you to schedule in your study time. Keep your at-home routine as close to the normal day-to-day as possible. Set the tone by getting everyone up and dressed as if they were going to school. Block out times for schoolwork, lunch and playtimes. Coordinate your study time with kids' activities to help you focus and keep interruptions to a minimum.
Help everyone stay on track.
Use a centrally located whiteboard to post the daily schedule, and be sure to add in your study times! Designate areas for activities like studying, playing and meals. Set a timer for kids who may have trouble when it's time to transition to a different activity. Check out these tips for time blocking.
Create a designated study zone.
It doesn't matter if it's a kitchen table, a home office or your bedroom. The important thing is to have a workspace that's reserved exclusively for your classwork. Keep the space clean and organized so you can be "in the zone" when it's time to study!
Get up and move around.
Mix in some time for physical activity. It will help manage kids' energy levels so they can focus on their own schoolwork. Better yet, play with them! Even 15 minutes of quality time can give kids the adult interaction they crave and help them to respect your space when you need to study.
Study at the right time for you.
Are you a morning person or a night owl? Everyone has a time when they are most productive. Don't force it! Choose a time of day when you are most alert and less likely to be tempted by distractions to engage in your classwork.
Set realistic expectations.
Talk to your kids about what you need to be a successful student while they are at home. Once everyone knows the ground rules it will be easier for them to respect your space and study time. But remember, this is a big adjustment for everyone, so be flexible.
We know this transition may seem like a challenge, but you have what it takes to get through this and come out on top. If you need assistance, reach out to your student services advisor. We're here for you!

100%
Online programs for maximum flexibility
80+%
NAU students receiving transfer or experiential learning credit
100+
Relevant degree and certificate programs
21+
Years of online educational excellence