NAU Alumni Spotlight: Ashley Salinas
National American University Alumni Spotlight:
Ashley Salinas – MBA, Class of 2021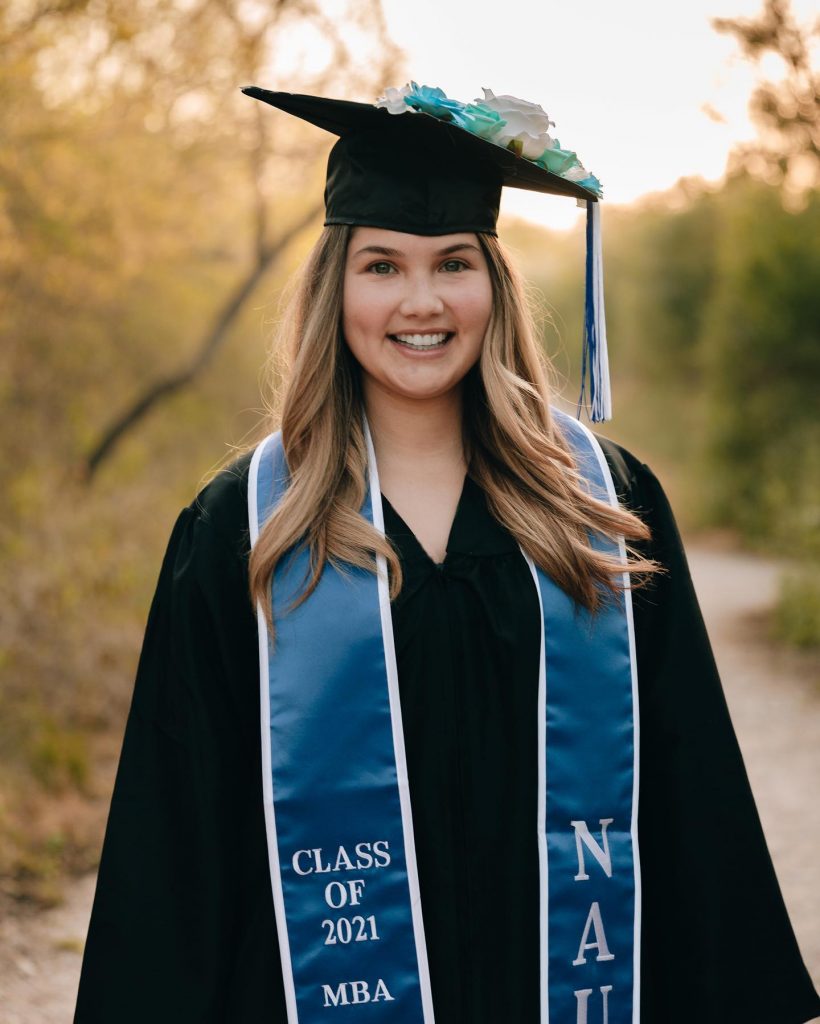 National American University (NAU) alumna Ashley Salinas earned her Master of Business Administration (MBA) degree. She currently works as a Career Services Associate at Texas State Technical College in Harlingen, Texas. Among her many duties, she assists students and alumni with searching for a job, filling out applications, and creating resumes.  Her future career goals include continuing her education and working in higher education. Ashley has her eyes set on moving up the ladder at her current job.
Ashley is looking to further her education, possibly with the Doctor of Education (EdD) degree offered by NAU.  She said, "It'll be a great accomplishment to have completed a doctoral degree before the age of 30."
WHY DID YOU CHOOSE TO GO TO NATIONAL AMERICAN UNIVERSITY?
I chose NAU because I received a partial scholarship to its graduate program. I'm from Texas so, prior to attending, I had never heard of the university. I did some research on the university which ultimately contributed to my decision to attend. And, I am so grateful I did.
HOW WOULD YOU DESCRIBE YOUR EXPERIENCE STUDYING AT NAU?
I really enjoyed my time at NAU. The program was fairly short, and I was able to learn so much from my classes that I was able to utilize with my career. The faculty was very helpful and responsive. I would most definitely recommend NAU to others.
HOW DID YOU FEEL ABOUT ONLINE CLASSES?
I have been taking online classes since my undergrad, so I was already familiar with them. I absolutely love online classes because I work full-time and it allows me to work around my schedule.
IS THERE A SPECIFIC MEMORY YOU HAVE ABOUT YOUR EXPERIENCE AT NAU?
My advisor, Armolita, was so helpful throughout this entire program. This is the first time I attended a school where the advisor checks in on you. For example, If I was late on an assignment, she would give me a call right away to see what was going on and offered her assistance. In addition, she was very helpful with the registration process.
HOW DO YOU EXPECT YOUR NAU EDUCATION TO HELP YOU IN YOUR CAREER?
I expect my education from NAU to open up new doors for me, whether that be in my current place of employment or something completely new.
See more alumni stories by following our social media!
---
NAU Alumni Network Facebook Page
NAU Alumni Network Twitter Page

100%
Online programs for maximum flexibility
80+%
NAU students receiving transfer or experiential learning credit
100+
Relevant degree and certificate programs
21+
Years of online educational excellence