H-PSSS First Female: Stephanie K. (Master of Strategic Security)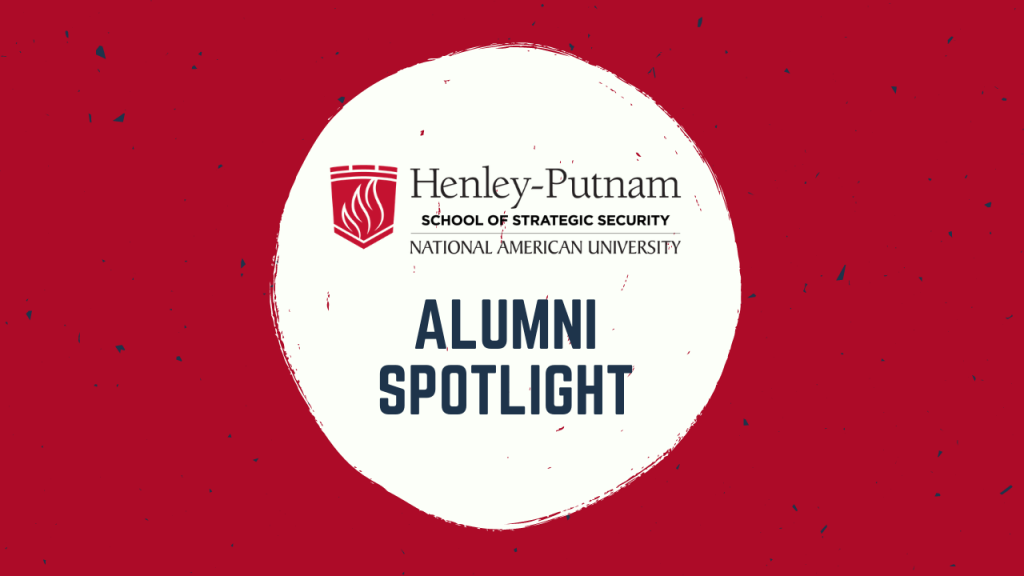 Women's History month is almost over, but we aren't done celebrating some of the amazing women who have graduated from Henley-Putnam School of Strategic Security. This time, we are spotlighting H-PSSS' First Female, Stephanie K., who is the first woman to earn the Master of Strategic Security degree from Henley-Putnam.
In the interview below, Stephanie shares how earning her bachelor's degree in Terrorism and Counterterrorism Studies, and her master's degree in Strategic Security, apply to her everyday life as a War Planner. Plus, how she balanced earning her degree while working and deployed.
What is your occupation/career?
I'm going on 22 years in the Air Force. I work as a GS employee with Joint Base Charleston and am also a reservist in the Air Force.
Why did you choose the master's in strategic security?
Well, I earned my bachelor's degree at Henley-Putnam in Terrorism and Counterterrorism Studies. I had written to the school that I wasn't sure which degree program to go into for my masters; Terrorism and Counterterrorism Studies or Strategic Security. The President of Henley-Putnam (at the time) called me and during our conversation he talked me into enrolling in the Strategic Security program.
What is the difference between Terrorism and Counterterrorism Studies and Strategic Security?
Terrorism and Counterterrorism goes into more detail about various groups and what they are about. Strategic security is very broad in cybersecurity, espionage, and different types of border security which are things I experienced in the military. I found I was able to apply it and was familiar with some of the topics. Since I had already studied a lot of the terrorist groups while I was in my bachelor's program, and I found I liked the strategic security program more.
Can you expand on how you have applied your Strategic Security degree in your job?
I can expand on it a little without going classified. My job in the Air Force is a War Planner, which means I plan operations and do a lot of operation security. I am able to use some of the things I learned in my program when I go into joint-planning processes and operation and security, and military deception. It's funny when I go into the planning process, they make fun of me, because I've coined the phrase, "I wrote a paper on that once." I wrote a lot of papers on that, because it is such a broad topic.
Did you find instances where your job as a War Planner helped you understand your classes?
Many times I was able to pull in my job experience to write papers. I was writing an aircraft evacuation plan at the same time that I was doing an area studies analysis. It almost felt as if I was cheating at both, but I was able to do my assignment and my work at the same time. So, I used my C-17 knowledge from work and my area studies analysis from class and used them both at the same time. I think I got a 99% on the assignment and a "good job" on my evacuation plan. For that assignment, I had both my schoolbooks out and my aircraft books out, and they both applied at the same time. I was using the C-17 on my assignment for a humanitarian drop in Libya, but I was actually evacuating aircraft for hurricanes in the real world, so I had to keep reminding myself of the differences.
We pride ourselves in having faculty with real-world experience. Did you find that to be true with your professors at Henley-Putnam?
Absolutely! There are a few professors still in the Air Force that I was able to reach out to, at work, to ask for advice. Also, there were other students in the Air Force who could add their experience.
How did you balance work and school?
It had its ups and downs. With my both my bachelor's at and master's at Henley-Putnam, they kind of ran into each other. There were times when I was deployed overseas in the Middle East, and the school and professor were so great that they modified my final test to be over the phone so I could complete my assignment. It took me about six years to complete my master's degree. During that time, I changed career fields twice in the military, we changed operations a few times, real-world things happened. It's difficult and life happens, but the luxury of being able to do online school when you can is amazing. You need the discipline to know that you have to do the work. It's a balance you have to work into your life.
Did online classes fit your lifestyle?
I had tried in-person classes when I joined the military, but I couldn't find the time to physically go to classes. I didn't find success until I enrolled at Henley-Putnam. It allowed me to fit school into my life, since my life had already started. The instructors were awesome because they knew what college was like for online professionals because they worked in the field while teaching.
Were there a lot of female students in your classes?
I can only recall two or three other female students; it was always other men. I've always been in male-dominated career fields, so I don't always notice when there aren't as many other women, especially in military and security career fields.
Do you have any advice for women who aren't sure if the security field is right for them?
Keep on keeping on. We've made great strides in getting through and doing what we do. Don't let them tell you that we don't deserve to be here. Sometimes you'll have to work a little harder to prove yourself. Don't take it to heart too much, and don't let it affect you. Keep doing what you're doing, and it will come around in the end.
---
Watch Stephanie's Full Video Below!
Interested in learning more about the online master's and doctoral programs offered at NAU's Henley-Putnam School of Strategic Security? Click below!
Bachelor's in Terrorism and Counterterrorism | Master's in Strategic Security

100%
Online programs for maximum flexibility
80+%
NAU students receiving transfer or experiential learning credit
100+
Relevant degree and certificate programs
21+
Years of online educational excellence