Re-Imagining the MBA and Master of Management Webinar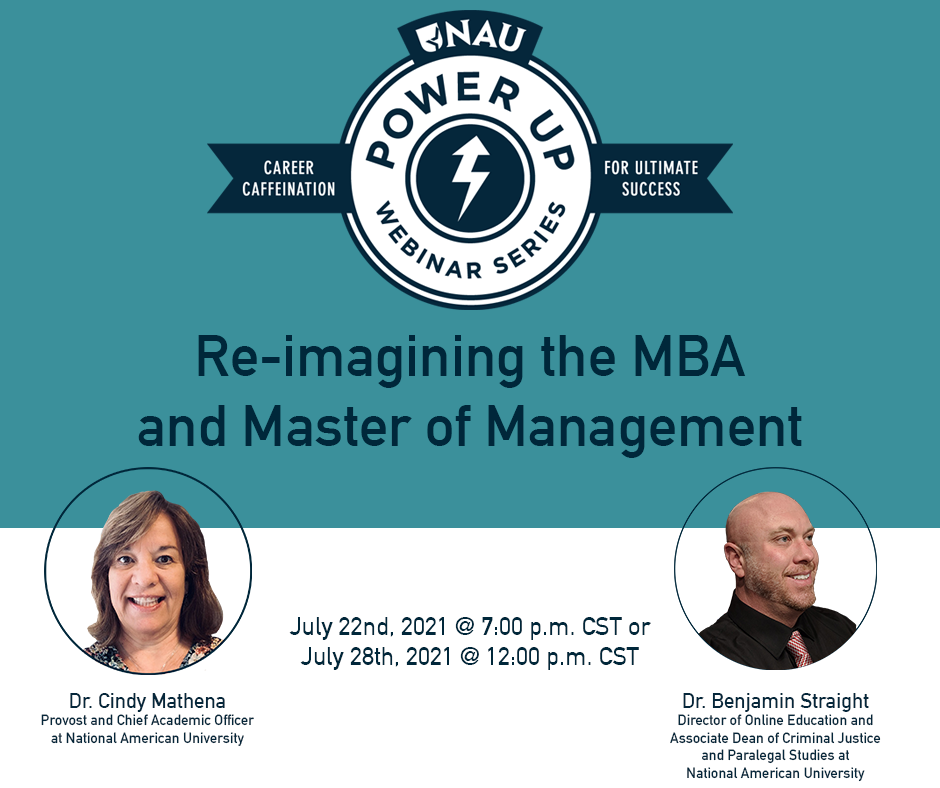 In July, National American University hosted two live webinars showcasing how NAU has re-imagined the Master of Business Administration (MBA) and Master of Management (MM) degrees. Watch this webinar recording to learn how the accelerated, individualized programs help build your portfolio of career accomplishments so you can start showing leadership in your career today!
-Discover how an accelerated master of business administration or master of management program can help you achieve your educational and career goals.
-Experience an actual industry relevant, streamlined course where you will see meaningful and impactful assignments that build practical and useful skills.
-Understand how assignments will build towards a digital career portfolio that showcases your skills and abilities.
-Explore how a course can be completed in 5½ weeks.
Webinar Presenters
In this webinar, NAU's Provost and Chief Academic Officer, Dr. Cindy Mathena, was joined by NAU's Director of Online Education, Dr. Benjamin Straight.
Dr. Cindy Mathena specializes in Educational Technology and for 25 years has devoted her career to leadership in education and innovation. Prior to joining NAU she held faculty and administrative positions with the University of St. Augustine for Health Sciences, Virginia Commonwealth University, Old Dominion University and Tidewater Community College. She also served as Executive Director and Founder for the Tidewater Center for Technology Access in Virginia Beach, Virginia.
Dr. Benjamin Straight, also an associate dean at NAU, has taught undergraduate, graduate and legal studies students onsite and online for 13 years. In addition, he maintains a law practice specializing in Criminal Defense, Prosecution, Family Law, and Contracts. He also has a permanent chair on the National De-escalation Training Center (NDTC) Board of Directors. A disabled Army veteran (Military Intelligence) who was honorably discharged in 2005, D. Straight is also a commissioned Kentucky Colonel.
Watch the webinar recording below or on YouTube!
About National American University
MISSION
National American University provides innovative learning experiences in a caring and supportive environment for individuals of diverse backgrounds, cultures, and abilities, preparing them for success in competitive technical and professional fields.
HISTORY
Since 1941 NAU has welcomed students of diverse interests, cultures and abilities and prepared them for real-world success by offering relevant degree programs in growing industries.
A PROUD LEGACY OF CHANGING LIVES
NAU has always believed that a university should be built around the needs of its students. Education is changing, so are we-we meet you where you are at.

100%
Online programs for maximum flexibility
80+%
NAU students receiving transfer or experiential learning credit
100+
Relevant degree and certificate programs
21+
Years of online educational excellence