NAU Alumni Spotlight: Damon M. – Criminal Justice
National American University Alumni Spotlight:
Damon M. – Associate Degree in Criminal Justice, Class of 2018
Bachelor's Degree in Criminal Justice, Class of 2019
Master of Management, Emphasis in Criminal Justice, Class of 2021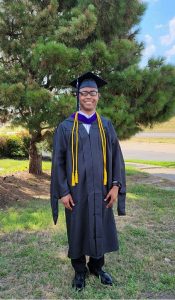 National American University (NAU) alumnus, Damon M., earned his associate degree and bachelor's degree in Criminal Justice from NAU. He went on to earn his Master of Management degree with an emphasis in Criminal Justice in 2021 and is currently enrolled in NAU's Doctor of Education (EdD) program.
When asked about earning all of his degrees at NAU, Damon said:
"I started with NAU and I want to finish with NAU. I don't want to attend any other school."
We asked him a few questions about what he does and his experience at NAU.
Why did you choose at enroll at NAU?
To make a long story short, it was the old commercial and jingle. Originally, I was going to go to University of Phoenix, however they were only going to give me a half a credit for all my previous college credit. I saw the NAU commercial, and *starts singing* "One day, one night, Saturday's alright…" The commercial really stuck with me so I called the number on the screen, just to find out that NAU accepted all my previous college credit.
What drew you to pursue degrees in Criminal Justice?
I have been a security officer for 23 years. As a child, I wanted to be a police officer, but that dream didn't pan out. I was initially earning my degree in business, however all my friends asked why I chose business when that wasn't my dream. I decided to major in Criminal Justice, and I realized that is what I should've done a long time ago. I love it. I wanted to become a juvenile probation officer, but as of right now I am still in security.
With 3 degrees in Criminal Justice, what led you to earn your Doctor of Education?
5 years ago, I realized I wanted to go back to school. Many people post their goals for life on the fridge or on the wall, but I carry my list of long-term and short-term goals in my wallet. I check them off as I complete them and update them every few years. One of my goals was to go back to school and earn my associate degree. As I started earning my associate degree, I said to myself that I'm also going to earn my bachelor's degree, master's degree, and earn a doctorate degree.
What is your 5-year plan?
I want to own my own business. I never dreamed of working for anyone, and any job I've had so far has been viewed as a steppingstone. I currently have a non-profit business that is a youth development program for at-risk youth. We bring in community leaders, college students or alumni, and different professionals to speak to the youth about their experiences.
I encourage the youth in my program to enter a trade or go to college. One of the kids I worked with said to me, "Why are you telling us to go to school when you dropped out of college?" That struck a nerve with me, and I realized I need to lead by example for both my mentees and my daughters.
How did you feel about online classes?
After experiencing online learning, I regret that I did not do it earlier. After starting a family, online is much better for me. People don't believe me, but I completed most of my schoolwork on my cell phone. There were times when I didn't have access to a laptop, so I did about 85% of my work on my cell phone, even using APA format. If I couldn't do it on my phone, I went to the library.
Were you able to connect with your classmates and the faculty members?
As we moved into group projects, I was able to meet my classmates. Also, as I got further along with my degrees, I needed to reach out to my professors more. I worked nights as a security guard so I would email my professors at odd times and they worked with me.
Is there a specific memory you have about your time at NAU?
My final semester, we had a group project. Before then, I didn't have any group projects and was able to do my work on my own terms. That experience was challenging as I hadn't worked with a team for many years. However, we got an "A" on the project and met over conference calls to do our parts and work together. It made me more open-minded.
Would you recommend NAU to others?
I love the fact that NAU accepted all my previous credits. Although I never made strong connections with my classmates until the group project, I got along with most of my professors. I think NAU should do more group projects because I am now connected with those classmates and we text and stay up-to-date with each other.
Watch Damon's full alumni spotlight interview below!
See more alumni stories by following our social media!
---
NAU Alumni Network Facebook Page
NAU Alumni Network Twitter Page

100%
Online programs for maximum flexibility
80+%
NAU students receiving transfer or experiential learning credit
100+
Relevant degree and certificate programs
21+
Years of online educational excellence