NAU Alumni Spotlight: Carrie H. – Management
National American University Alumni Spotlight:
Carrie H. – Bachelor's in Management, Class of 2018
Master's of Management, Class of 2019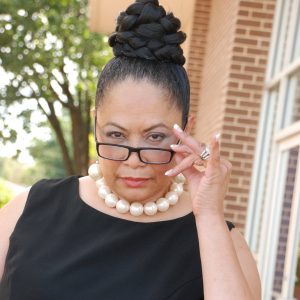 National American University (NAU) alumna Carrie H. has earned two degrees at NAU: her bachelor's in Management (Class of 2018), and her master's in Management (Class of 2019). She is currently enrolled in NAU's Doctor of Education (EdD) degree program. Carrie previously worked as a teacher, and in mid-2021 transitioned into a management role with the IC Tulsa Oklahoma Bus Plant.
What does your day-to-day look like?
My day to day is extremely busy but I have mastered time management. I work 10 hours a day plus overtime, go to college full-time and I'm writing books that will be published with Balboa Press.
What is your next career goal?
My next career goal is teaching college. I love teaching college students. When the physical college was open in Tulsa, I had the privilege here at NAU to tutor the associate and bachelor's students when our tutor took a new position in Austin, Texas. I tutored students for three years and enjoyed every moment of it.
Why did you choose to go to NAU?
I chose NAU because of its ethical values, and outstanding professors that go above and beyond the call of duty for me as a student.
What was the NAU faculty like?
At NAU here in Tulsa, when the physical building was open, Nate Watson and the dean, Alisha were awesome. I learned so much from them both, which will help me finish my academic journey. As I transitioned into the master's program, I had good professors in the two master's programs I was in. My doctoral program is the best program at NAU. There is not a word in webster that can explain Dr. Moore, Dr. Tyson, and Dr. McLaugin. They are so smart, and every class has been so much fun because they make learning fun.
How did you feel about online classes?
I love online classes because I can go to college in the privacy of my own home in my PJs. To be successful in online education you must understand time management, and master it.
Would you recommend NAU to others?
Yes, I would highly recommend NAU to other potential students who want to further their education, because of the high ethical values that are taught at NAU. I have been a student at NAU since 2014 – through a bachelor's, two master's, and now the Ph.D. program. If you are a student at NAU please consider the doctoral program, and I can promise you won't regret it. Dr. Moore is like my second mother to me – she has my best interests at heart and goes above the call of duty to equip our cohort of future doctors with everything we will need to be successful in leadership positions.
Is there a specific memory you have about your experience at NAU?
My memory of NAU will be Dr. Moore in the EdD. program, who teaches ethics on the highest level in every class she teaches. She truly loves us, cares about us, and is touchable. Every student in our cohort is holding down a 4.0 and this is our 6th semester.
How is your NAU education helping you in your career?
When you earn a degree at National American University, you accomplish a big step in the business world because you are equipped to move into management positions, and you are very confident of your ability to be an asset to any company that would hire you. As a student, I have gained so much knowledge, skills, and experience to help me in my present career and life in general. My confidence was increased by learning and gaining additional skills in communication, problem-solving, and accomplishing my goals. National American University increased my confidence as a student and when I open my mouth to speak on a subject in business or education, I'm able to expound with confidence on any given subject.
See more alumni stories by following our social media!
---
NAU Alumni Network Facebook Page
NAU Alumni Network Twitter Page

100%
Online programs for maximum flexibility
80+%
NAU students receiving transfer or experiential learning credit
100+
Relevant degree and certificate programs
21+
Years of online educational excellence